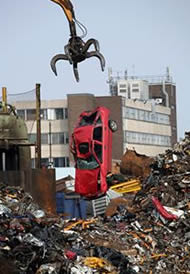 Featured Companies
3 Reasons To Use Salvage Yards
If you've ever heard of or seen a salvage yard, you might have a decidedly negative image in your mind. When most people think of automobile salvage yards, they think of dirty, dangerous places with chain link fences and Doberman Pincers prowling the boundaries. In some instances, this may be a good representation of an automobile salvage yards. But salvage yards are actually great places to find inexpensive automobiles and auto replacement parts. There are many different benefits to visiting a salvage yard, and if you have a salvage yard near you, you might be able to find a wealth of valuable treasures hidden beneath the piles of junk. Visiting salvage yards is kind of like antique shopping for cars. You will have to sift through a lot of worthless stuff, but every once in awhile you might land on a gem.
Cheap Car Parts for Your Vehicle
One of the most common reasons why consumers visit auto salvage yards is because of the huge collection of auto parts that are available for a very reasonable price. When an automobile is totaled, or damaged beyond repair, it is usually sent to a salvage yard. However, just because the body of an automobile is trashed, doesn't mean that all of the interior parts are damaged beyond use. You can sort through hundreds of different vehicles and find working parts that can be used to fix your own vehicle. Parts at an auto salvage yard will cost just a fraction of what they would at a mechanic's shop.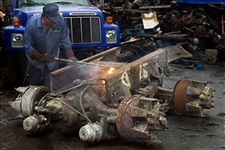 Complete Vehicles that Require Minimal Repairs
If you don't have a vehicle for which to purchase repair parts, you might consider visiting an auto salvage yard in order to secure an entire vehicle that you can repair and restore until it is once again drivable. Auto salvage yards have huge collections of vehicles that are given different rankings depending on the amount of damaged they have received and the likelihood that they could be safely restored. Vehicles with a category C or D can be restored easily, though sometimes the cost of restoration is more than the final worth of the automobile. Still, purchasing a salvageable automobile is often much more economical than purchasing a brand new vehicle.
Healthy, Productive Habits for Young People
Another benefit of salvage yards is that they can cultivate a healthy and productive habit in young people. If you can get your child interested in restoring vehicles, he or she will be less likely to develop bad habits or spend time participating in questionable activities. The number one reason why many teens decide to involve themselves in dangerous activities is boredom. If your kid is occupied with a salvage yard vehicle that needs restoring, he or she won't have time to get into trouble. Also, restoring a vehicle together with your child is a great way to spend quality time getting to know your kid as he or she develops into a productive adult.
Comments for this post are closed